Our motto, "Opening Doors to Fulfilling the American Dream," means many things. We open doors for future skilled trades professionals by educating the public that a career in the construction trades provides well-paying jobs, and certifications can be earned in a few weeks, often without the burden of student debt. We open doors to the citizens of the state of Texas who dream of homeownership by helping provide the labor needed to build quality, affordable homes. Our door is also open to those who need a helping hand through our charitable efforts.
Construction Industry Training and Education
The Foundation works with local home builders associations, high schools, community colleges, technical and trade schools and other organizations to incorporate construction trades programs into their curriculums. We also work with schools that have existing construction trades training to enhance their programs and provide materials and equipment through a grant program.
Don't Settle for a Job. Work Toward a Career.
Construction trades programs offer a range of career options and teach the skills that are in high demand.
Trades programs make it possible to earn construction industry certifications and credentials right along with a high school diploma, or a certification in as little as 24 weeks at a community college or trade school.
Students can get paid by working on job sites while in school, and graduate ready to begin working immediately as a skilled craft professional in a well-paying career.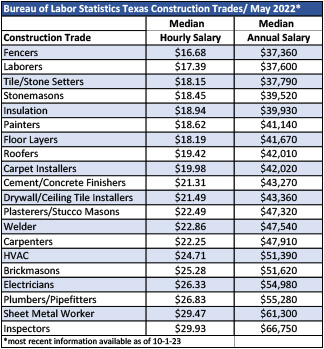 (These are median averages, as reported in the Bureau of Labor Statistics. If you're an hourly employee, and once you've worked more than 40 hours in a week, you will receive time and a half for the additional hours you work that week. If you're earning $20 an hour, 10 hours of overtime per week would increase your pay by an additional $15,600 per year.)
Instruction in the construction trades is known as Career and Technical Education (CTE) – formerly referred to as "shop class." CTE classes provide hands-on learning, such as how to properly use tools and building materials. Students in construction trades programs can earn a certification, license or a two-year associate degree.
43% of young employees with certifications and/or licenses earn more than those with an associate degree.
27% of young employees with certifications and/or licenses earn more than those with a bachelor's degree.
31% of young employees with an associate degree earn more than those with a bachelor's degree.
7 out of 10 jobs in the U.S. labor market require less than a four-year degree.
We can help you work toward a career in the construction trades.
The Texas Builders Foundation awards scholarships to students who have been accepted by or are enrolled in a Texas technical/trade school or community college/university and who are pursuing a residential construction related trade certification and/or license or residential construction degree and who demonstrate an interest in obtaining employment in the homebuilding industry upon graduation. Learn about our scholarship program here.
Do You Have a Future in the Skilled Trades?
By 2028, there will be an estimated 3 million job vacancies in the skilled construction trades.
41% of the current construction workforce is expected to retire by 2031.
For every four tradesmen who retire, there is only one skilled person entering the workforce to fill their boots.
In 2023, approximtely 10% of the current construction workforce is female, and the industry is more open to women than ever before.
Many of our trades program graduates go on to pursue a degree in, for example, construction management at a four-year university while working in the homebuilding industry. This allows them to continue to hone their craft, earn a living and pay for college, thereby minimizing the amount of student debt that most university graduates incur.