Become and Advocate for Construction as a Professional Career Choice
The residential construction community and its supporters must advocate for the industry by educating young people, their parents, school administrators, and counselors on the professional career opportunities that exist in construction.
Opportunities in construction are abundant. According to the National Center for Construction Education and Research (NCCER), in September 2021, the United States has 430,000 open construction jobs, and it is estimated that there will be shortage of 1 million construction trades professionals by 2023. The problem is projected to get worse, with an estimated 53% of the current construction workforce retiring by 2036. Demand means opportunities. With thousands of jobs available, it is easy for future craft professionals to find training and work.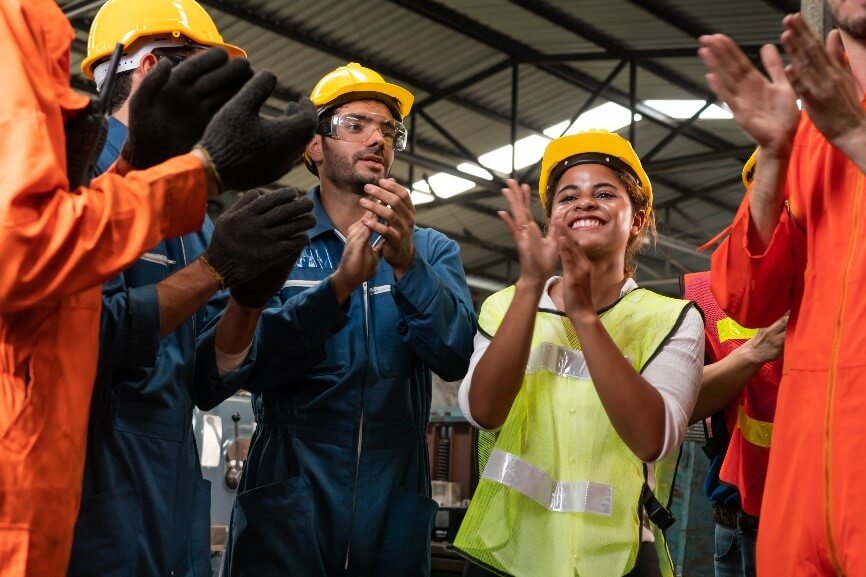 Become a Champion for the Construction Industry
The construction trades are often looked down upon as a "less than" career path. Help dispel the misconceptions about the skilled trades by changing the narrative when promoting the trades as a professional career choice.
There is an attitude that "manual labor" or "blue collar" jobs are not as respected as office-based or "white collar" jobs. There is a misconception that white collar jobs pay more and require more intelligence and higher education than skilled trades jobs. Many people who work hands-on in the construction trades prove to be gifted in academics such as math even though they did not do well in math in a traditional classroom setting. Trades training does require higher education, and a skilled crafts professional can command a higher salary and deserves the same level of respect as someone who works in an office setting.
Skilled trades professionals are extremely good at their jobs, take a great deal of pride in their work, earn a good living to support themselves and their families, and do work that provides tremendous value to our economy and communities. What could be more worthy of respect than that?
Because many jobs in the skilled trades do not require a college degree, there's a misconception that the craft professions don't pay as well as other jobs. Most skilled trades jobs pay very well, even for those who have just earned a credential or certification and are entry-level employees. The average base salary of almost 30 different trades exceeds $55,000 annually. When adding in overtime and other potential incentives, it's possible for hard-working skilled trades professionals to earn six figures (NCCER).
The belief that the skilled trades are only for men is a huge misconception. Although men currently dominate the profession (in 2021, women make up about 10% of the construction workforce) that doesn't mean that women shouldn't consider the construction trades as a career. Diversity in the workplace brings more perspective, innovation, and problem-solving skills to the table, which can help employers improve their value to clients and spark a company's growth. Employers would welcome more women into the industry.
It is true that jobs in the skilled trades carry a higher level of safety risk than the average office job. A huge part of becoming educated, certified, and experienced – and ultimately skilled – in the trades is about not only learning how to do the work but how to do it as safely as possible. While many jobs in the skilled trades could be potentially dangerous, there is a consolidated effort from federal and state regulatory agencies, trainers, educators, employers, and workers to achieve a safe work environment.
There is a misconception that trades workers have long, irregular hours and not much flexibility in their work. As in any job, there will be times when workers are extremely busy, and overtime might be necessary to get a project done on time. Because skilled trades jobs involve hands-on, at the job site work, "bringing your work home with you," doesn't happen for trades professionals as it often does for many who work in an office.
There is a myth that all trades jobs are very physically demanding. A lot of jobs in the trades do require significant physical demands. However, the trades are also extremely diverse. For every job that requires a great deal of physical strength and agility, there is another position that won't have the same demands.
An advantage of working as a construction craft professional is the potential for entrepreneurship. If an employee reaches the point where they want to start their own business and hire their own team, they'll be setting the schedule and designing the policies around work-life balance – something that is important to those entering today's job market – and the work a construction trades company does will always be in demand.
Here are a few examples of what it takes to become a successful construction trade professional:
Carpenters work extensively with wood but also with other materials. They cut, construct, shape, install, and repair – from framing a house, to building porches and decks, to cabinetry work. The education pathway for carpenters is usually high school, plus an apprenticeship or on-the-job training. A degree is not required, although a carpentry certification from an accredited training program can result in a higher wage. Median annual salary: $49,520.
Drywallers hang sheetrock and ceiling tiles, tape and float the drywall to prepare it for painting, and often do the painting. The work often involves working at heights, which is one of the core skills that drywallers need to learn at the beginning of their career. This trade is usually learned through on-the-job training. Median annual salary: $48,830.
Electricians install, maintain, repair, and troubleshoot all the electrical power systems in homes and businesses. Thanks to electricians we can rely on working light switches, we can trust our power outlets to safely deliver power throughout our homes and businesses, power communications, control, and security systems to name a few. Many electricians are regularly on call for emergencies, so those choosing this career should be prepared to work nights, weekends, and holidays. A license is required to work as an electrician, but it may be earned by taking a test and not through a college. Most electricians learn through apprenticeships and on-the-job training, working their way up from apprentice to journeyman and eventually to master electrician. Electricians can advance their careers by attending a trades school program. Median annual salary: $56,900.
Heating, Ventilation, Air Conditioning and Refrigeration (HVAC/R) Mechanics. HVAC/R mechanics install, maintain, and repair equipment and systems in our homes and businesses. Proper performance of these systems is crucial for everything from comfort to safety to indoor air quality. Two-year associate degrees and some four-year college programs are focused on HVAC/R, and some employers prefer to hire people with these technical degrees, given the increasingly complex nature of HVAC/R technologies. Many don't have college degrees and have learned the HVAC/R trade through on-the-job training or apprenticeship programs. Some states, including Texas, require HVAC/R mechanics to have a license. Median annual salary: $50,590.
Masonry workers, also referred to as bricklayers, build structures or structural components from brick, stone, concrete, and other materials. Homes with brick facades, brick or stone fences, chimneys, and more are constructed by masonry workers. Masons are also entrusted with the restoration and maintenance of existing masonry, including that found on historic structures. Most masons learn the trade through apprenticeships or on-the-job training. Median annual salary: $47,710.
Painters in the construction trades apply paint, stains, and protective coatings to houses and buildings – both interior and exterior. The work often involves working at heights, which is one of the core skills that painters need to learn at the beginning of their career. No formal training is required for painters, most of whom build their expertise through on-the-job training and work experience. Median annual salary: $42,130.
Plumbers work with pipes and piping fixtures, from installation to maintenance to replacement and beyond. Plumbers are needed anywhere pipes are present. Many plumbers are regularly on call for emergencies, such as burst pipes, so those considering this career should be prepared to work nights, weekends, and holidays. Plumbers can learn their trade through apprenticeships and on-the-job training, although the majority choose to learn through an accredited plumbing trades program. Most states, including Texas, require plumbers to go through a licensing process before they can work in the industry. Median annual salary: $56,330.
Roofers build, install, repair, service, and maintain roofs – particularly the roofs of homes. Most work happens in the summer, due to more favorable weather patterns, which can mean hot workdays depending on the climate. Overtime work is common in the summer months, because of the demand. On-the-job training is the typical entry into the field, though there are apprenticeship programs that allow for a more formal pathway into this trade. Median annual salary: $43,580.
This is not a comprehensive listing of opportunities as a construction trades professional. The Bureau of Labor Statistics (https://www.bls.gov/iag/tgs/iag23.htm) is a source of detailed information on the construction sector.
Outreach to Potential Construction Trades Professionals and Educators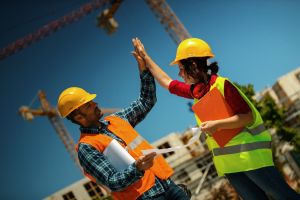 Determining a career path that leads to a satisfying, well-paying career can be overwhelming. Talk with students, parents, guidance counselors, and school administrators about the opportunities in the skilled trades profession. Help to dispel the misconceptions associated with trades work. Emphasize that education is readily available through trades training programs, community colleges, and on-the-job training – education that is affordable and will not burden the worker with student debt. A student can begin working and getting paid while still in high school. With on-the-job experience and/or a credential, certification, or license, a career as a skilled crafts professional can be satisfying, well-paying, and there will always be a demand for skilled workers.
There's so much information to share about careers in construction. The goal is to balance talking generally about "lots of construction jobs are available" and more specifically to "the construction trades as an exclusive field that looks for and hires those who are willing to work hard to learn their craft."
A recent survey by NCCER asked up-and-coming workers what they want from their careers.
They are more likely to enter a field if they know someone already working in that field.
They want to understand potential careers through internships, job shadowing, and meet-and-greets with professionals in their field.
They want to do work that makes a difference, be a part of a community and of something bigger.
They want to be happy and fulfilled.
Which industry does these things better than construction? The construction trades build communities; they rebuild neighborhoods after disaster strikes; they build something bigger than themselves that will be here for a lifetime – something that they can point to and say, "I am proud to have been a part of that project."